Potomac's cozy, suburban atmosphere lends itself to easy living. The city park system is extensive and includes everything required to keep the whole family healthy and active, including myriad trails, playgrounds, sports facilities, and water activities. The Potomac River close by makes it even easier to spend long, lazy afternoons enjoying the view.
Seafood lovers are especially fond of Potomac, with many restaurants serving a vast array of freshwater fish in all manner of ways. The region has unique signature dishes, such as traditional Smith Island Cake, stuffed ham, and crab recipes galore that draw foodies worldwide.
Brunch in Potomac can be a spectacular affair or a casual get-together. Let the mood of the day guide you to any of the following one-of-a-kind brunch spots in Potomac for a meal you won't soon forget.
Best Brunch Spots in Potomac, MD
Brunch is a great time for a working meal, casual gathering, or celebratory occasion. Potomac takes advantage of this tasty mealtime trend by offering a slew of great restaurants specializing in early afternoon delicacies. Take a look at the best places for brunch in the area.
Normandie Farm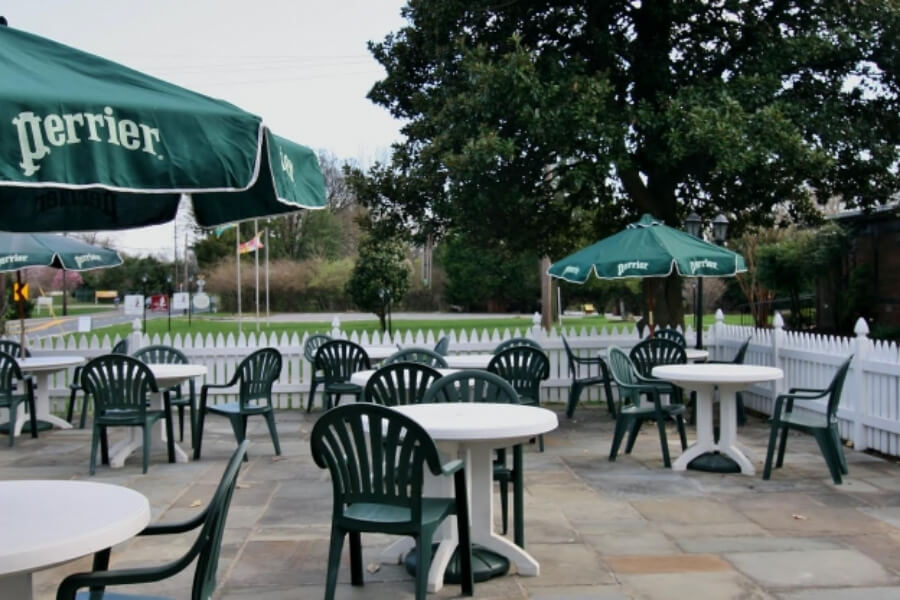 10710 Falls Rd.
301-983-8838
Normandie Farm has been a local staple for over 80 years, serving fresh seafood, regional classics, and French cuisine. The Sunday brunch buffet is unrivaled in elegance, flavor, and volume. Try an afternoon tea on the patio with their famous popovers or the equally renowned eggs Benedict. Dine indoors to enjoy the rustic and spacious dining room. It's an excellent place for a casual bite or a special celebration where you can revel in the flavors of locally sourced products.
MoCo's Founding Farmers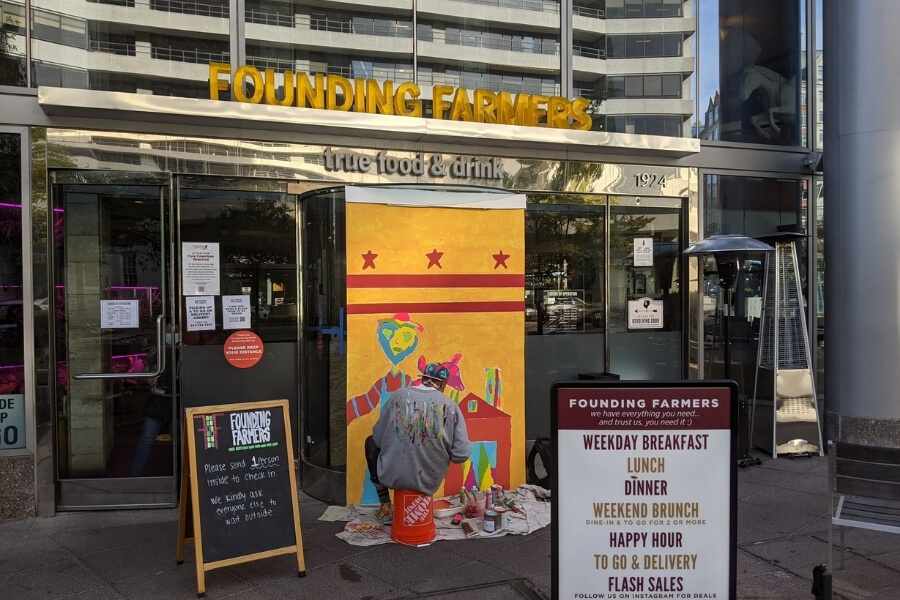 12505 Park Potomac Ave.
301-340-8783
This full-service restaurant and bar is an award winner in sustainability and a 3-Star Certified Green Restaurant. Their dedication to serving high-quality food made from scratch makes weekend brunch here a popular affair. It's best to reserve a table so you don't miss out on incredible dishes such as fresh beignets, bananas foster pancakes and breakfast cocktails from Mimosas to Bloody Marys. MoCo's Founding Farmers is the perfect place for brunch if you're looking for a casual vibe that doesn't skimp on quality.
Want to find out what your home is worth?
Get an instant market report sent straight to your inbox in seconds.
TPC Potomac at Avenel Farm
10000 Oaklyn Drive
301-469-3700
This golf course has a few dining opportunities for members to grab brunch. Light fare such as fruits, cheeses, breads, and crackers are available in the member's lounge with a selection of wines and cocktails. The two golf club restaurants open a more extensive brunch menu in the White Oak Grille and 2118. Menus vary with the seasons and holidays to make use of seasonal produce at its peak. Consider coming as a guest or prospective member, if you aren't already.
Old Angler's Inn
10801 MacArthur Blvd.
301-365-2425
The Old Angler's Inn is a great place for a late brunch, especially if you love the foods that Maryland is famous for, such as fresh crab, fluffy pastries, and crispy French fries with unique seasonings. This local landmark has been around since the 1800s and remains a staple in the community. A full wine and cocktail bar complete the menu for indoor or patio dining all year round.
Gregorio's Trattoria
7745 Tuckerman Lane
301-296-6168
Another local favorite for late brunches is Gregorio's Trattoria, offering classic Italian fare with locally sourced ingredients and an assortment of Italian wines and cocktails. Popular brunch dishes include the arugula pear salad and salmon rosé, but if you're looking for something heavier, it's easy to find. The family-friendly atmosphere and gracious staff make the experience worth it every time.
O'Donnell's Market
1073 Seven Locks Road
(301) 251-6355
O'Donnell's Market sells fresh seafood and baked goods of a quality you won't find just anywhere. They offer all types of seafood, meats such as beef, pork, veal, and chicken, and a bakery filled with sweet and savory items alike, made daily. There's also a raw bar and dining area nestled snugly in the back of the market, serving locally sourced meals that change with the market's inventory. It's an excellent place for brunch with a dozen raw oysters and a few mimosas.
Tally-Ho
9923 Falls Road
301-299-6825
Sometimes all you need for a great brunch is a casual spot where you can enjoy comfortable and authentic food with homegrown ingredients. That's the atmosphere at Tally-Ho, where popular brunch items include omelets, classic American breakfast plates of eggs, bacon, and hash browns, along with steaks, fish, and fruit choices. The casual atmosphere makes it a perfect spot for brunches after sports practice, shopping trips, or household errands.
Attman's Delicatessen
12505 Park Potomac Avenue
301-765-3354
Attman's Delicatessen serves up New York-style deli food for casual, budget-friendly brunches the whole family can enjoy. Bagels and hand-sliced lox, baked goods, eggs, breakfast meats, and their famous corned beef are the most popular brunch options. The smoked fish platters and a variety of breakfast sandwiches are close behind. Dine-in, carry out, or enjoy brunch on the patio for a special treat.
Brunch in Potomac is a great experience, no matter which restaurant you choose. There's somewhere special for every mood, so it's easy to choose the perfect spot. It's even more fun to spend the rest of the afternoon shopping and seeing the sites of Potomac – because this city never gets old.
Consult With a Real Estate Team That Knows Potomac
Delicious brunch in Potomac is just one of the many great things about living here. Nomadic Real Estate can help you find a home in this beautiful city, whether you're renting or buying. We provide an all-in-one, no-hassle approach to house hunting that gives you the peace of mind you deserve. Contact our office today to speak with an expert about your real estate or property management needs.