While D.C. had a huge population boom in recent years, many have noticed that it's slowed down. A major reason for this was the fact that there just wasn't enough development for people who wanted to move in. Another was that it wasn't clear whether or not the developments were going to increase in value.
Thanks to development in Upper Georgia Avenue, it's clear that there's a lot of growth to come.
What's Happening on Upper Georgia Avenue
Even if you haven't been paying attention, it's likely that you've heard some news about the goings-on around Upper Georgia Avenue these days. The whole corridor is facing exciting developments and is being built out to create more residency, amenities, and commercial property.
For the next two decades, you can expect to see many of the changes to have an influence on the area around the former Walter Reed Medical Center. Redevelopments there are promising major changes to the whole region. Developers are planning 3 million square feet of development including new housing, offices, and retail spaces with more than 2,000 apartments and condos. 
The area's massive footprint includes 20 acres devoted to just open space and parks. The Walter Reed Park is planning to host festivals, outdoor concerts, and even fitness classes for area residents and locals.
For more information, check out the Upper Georgia Avenue Land Development Plan put out by the city's planning commission. This is the roadmap that developers and owners will be using to make the area a destination that builds the region up and makes it attractive to visitors. Along with economic development assistance and strategic land use plans, expect an engaging and safe area like you've never seen before.  
Grocery Store-Anchored Housing Units and More
In several of the developments in his region, grocery stores and essential amenities anchor the complex. This creates the foundation not only for building a community, but it makes life convenient for the families who are moving into the local area.
Expect a few buildings with hundreds of apartments over tens of thousands of square feet of retail. With all that retail, you might think parking would be a nightmare. Thankfully, most of these developments include hundreds of underground parking spaces in the plans before the ground is broken.
Commercial spaces will also include office space for rent. Given the growth of startups in the region, this is perfect for new residents who are relocating or starting their own business. It's also good as a remote outpost for larger businesses that are located remotely but who employ a number of people in the D.C. area.
In the last decade, new households lead by people under the age of 35 have boomed. Much of this development is along the city's Green Line. This has led to lots of new investments and lots of exciting new businesses catering both to long-time residents and the new crop of people arriving.
Breaking Down the Corridor
The corridor is broken into five major zones. Each one has a unique focus and getting to know them will help to guide your investment in them. Here's the breakdown
Zone 1, Gateway Eastern Ave to Fern Street
New developments are going to anchor the main intersection at Eastern Ave, creating a visual gateway that leads into the city. There will be mixed-use developments and the users will include residents, visitors, retailers, and lots of businesses.
The region is focused on improving pedestrian connections and making sure that it's accessible by bike. With the increased bike infrastructure in the city in recent years, this has become a must.
Zone 2, WRAMC
The Walter Reed Army Medical Center from Fern Street to Aspen Street is slated to be reconnected with the community. With lots of activation and even a new parking garage, there's a possibility for major changes. The redevelopment is going to consider all the security requirements of the Federal tenant while also aiming to enhance livability.
With little pocket parks and greenways all around, expect safety to be the corridor's priority.
Zone 3, Piney Branch
From Aspen Street to Rittenhouse, you'll see more variety. Rather than the redundant establishment, there will be residential development to make things livelier. Expect lots of activity on weekends with music, events, and lots of daytime pedestrian activity to make it a fun pedestrian destination.
Zone 4, Missouri Avenue 
The region from Rittenhouse Street to Madison is slated to be maintained as a mixed-income area, with dense affordable housing. The goal is to make things accessible to new residents while also maintaining the character for current residents. There's even a plan for adaptive reuse of historic structures.
Zone 5, Southern Section
From Madison down to Decatur Street, expect a cleaned up corridor and better building facades. The new developments there will be targeted at infill and renovations. Rather than large-scale redevelopments, the aim is to keep the space serving the neighborhood and focused on what makes residents stick around.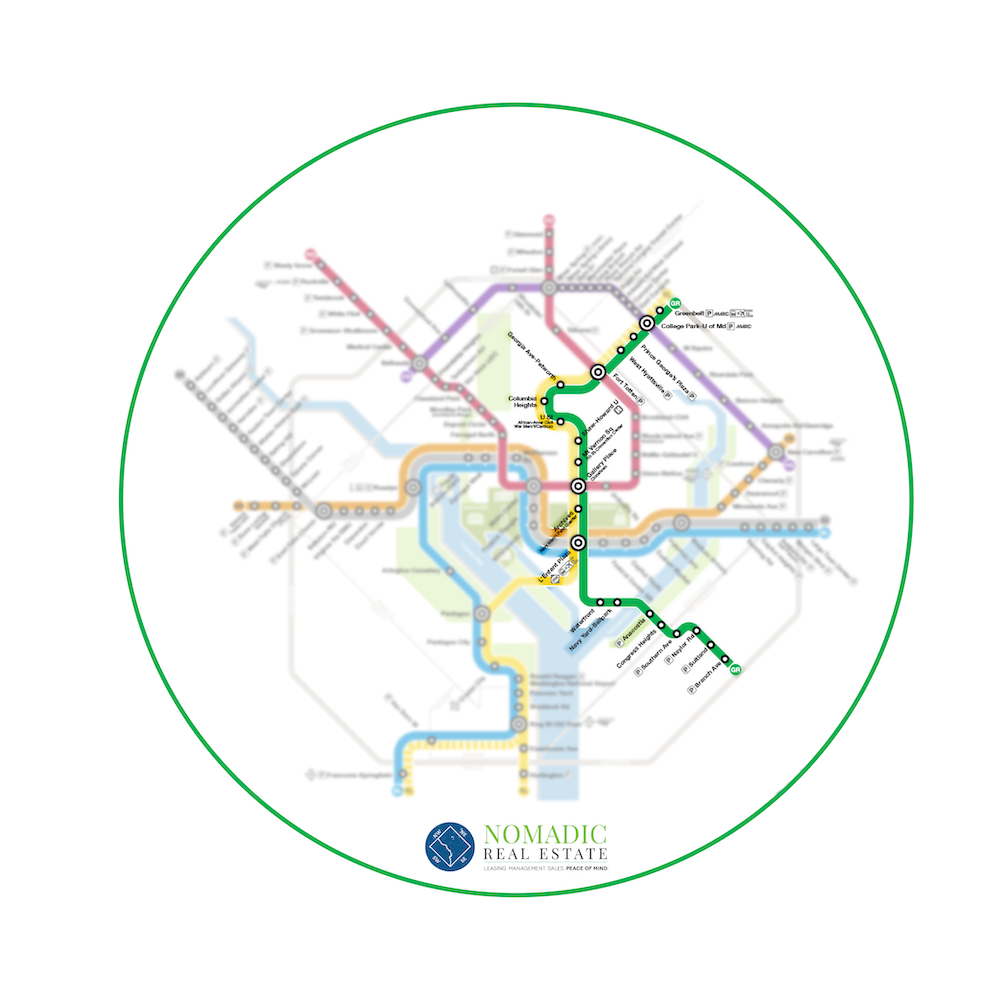 The D.C. Green Line is Where It's At
Investing in the communities in D.C. has always been a venture that's sure to bring great returns. Thanks to the development of Upper Georgia Avenue and what's slated to happen over the course of the next 20 years, lots of people are paying attention more than ever.
Whether you're looking for office space, a retail outlet, a residence, or a place to retire, Upper Georgia Avenue is offering all of it.
For tips on investing in the Purple Line in the DVM or D.C. areas, check out our latest guide.