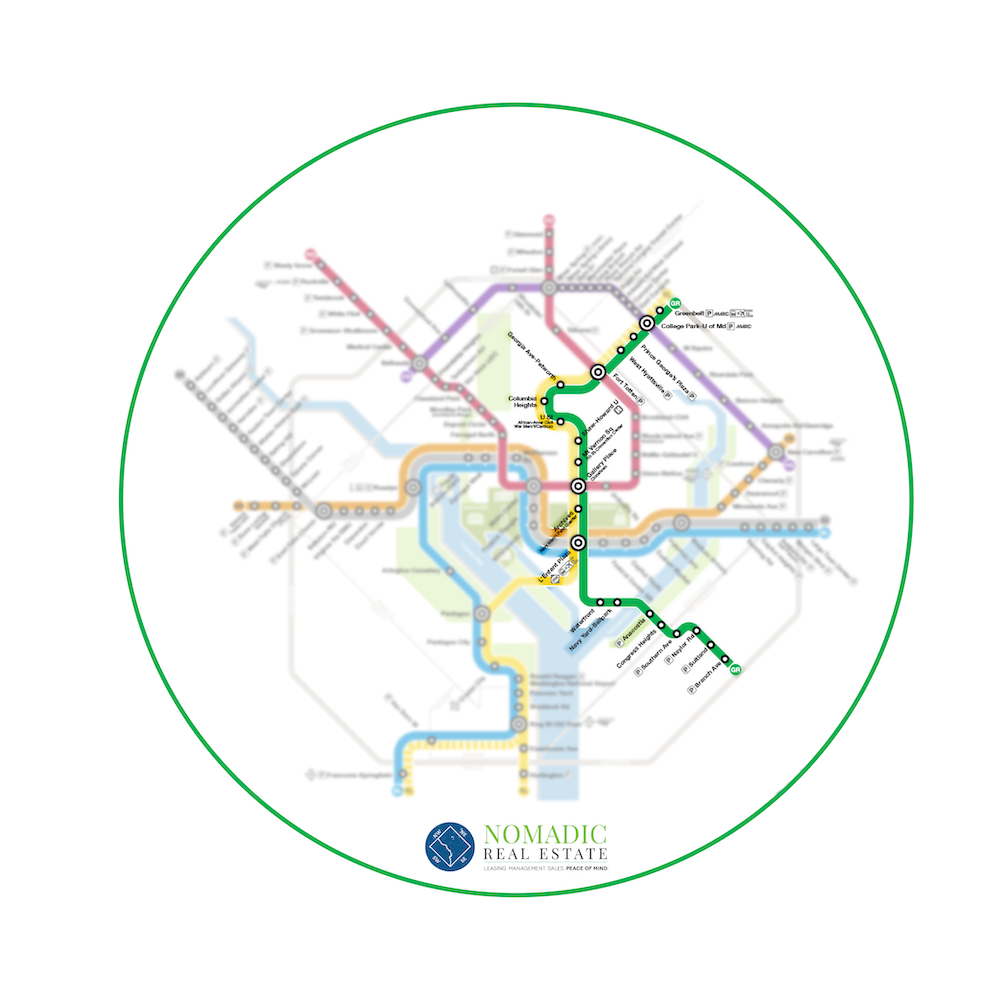 If you're looking to invest in DC real estate, look no further than the Metro's Green Line. The Green Line has 21 different stations in Washington DC and Prince George's County, Maryland. It extends from Branch Ave to Greenbelt and is one of the fastest-growing areas for new households.
Since 2010, almost 50% of DC's new households lead by people under the age of 35 have settled along the DC Green Line. Not to mention, there's plenty of options for investing in multiple properties.  If you're looking to invest in a young, quickly growing area, the Green Line is it.
Here are 8 of the best areas you can invest in on the Green Line in 2020.
1. College Park-Hyattsville
College Park-Hyattsville takes you out of the nation's capital into Prince Georges County, Maryland. This area surrounds the University of Maryland. College Park is a quintessential college town, with young, upwardly mobile residents and new developments.
The university is working with planners to reinvent a stretch of Route 1 that had traditionally been the home of bars, auto shops, and rundown hotels. The $100 million-plus project plans to bring retail space and housing (more than 5,500 new units!) to the area.
This development is targeted towards young professionals, rather than students, to try to make the area more of a "year-round" neighborhood, rather than one that's only thriving when the university is in session.
Making this area even more attractive to investors is plans for the Purple Line, which will intersect with the Green Line, making this area a transportation hub. If all goes as planned, this will open in 2022.
2. Columbia Heights
Columbia Heights is an extremely diverse neighborhood in northwest Washington. It's a prime example of gentrification in the city, and new condo housing, restaurants, and retail are coming in hot. While it's more affordable than other areas of the city, the average sale prices of homes in Columbia Heights is about $617,000 and homes are selling for an average of 99% of their asking price.
If you're looking to invest in housing in an affordable area of the city, with a central location, and attract a highly diverse population, Columbia Heights is an excellent choice.
3. Anacostia
Anacostia is one of the oldest suburbs in DC and is a cultural mecca, especially for African American history and culture. Areas east of the Anacostia River have seen more revitalization than others, but that seems to be changing. New development in the area, particularly along Martin Luther King Jr. Avenue has been picking up.
The MLK Gateway has secured funding and tax breaks to break ground on a 14,000 square foot retail space with office space above it. A new practice facility for the Washington Wizards and the WNBA Mystics recently opened in the area, and there are plans to turn an old bridge over the river into a greenway, similar to the High Line in New York City.
Anacostia boasts lots of lower-priced housing prime for flipping. The price per square foot is much lower than in other areas, and there is a lot of older housing that is perfect for flipping or tearing down and rebuilding.
4. Navy Yard-Ballpark
Most of the new housing built along the Green Line since 2000 was built around the Navy Yard-Ballpark stop. Over the past two decades, 25% of the new housing built in the DC area was built here. This accounts for nearly 10,000 new apartment units.
Named for the Nationals Park and the waterfront along the Anacostia River, this area is full of vibrant young professionals with an average income of nearly $80,000. Since Nats Park opened in 2008, the area has seen a tremendous increase in income, retail business, and housing.
With a 2019 World Series win, the Nationals are sure to continue to bring tourists and new residents alike to this area, making it a smart investment.
5. Southeast and Southwest Waterfront
The Waterfront is located just one stop from the Navy Yard-Ballpark stop and is one of the most up and coming areas of DC. It has the longest operating open-air fish market in the country and the big attraction is The Wharf, which is a mile-long stretch of bars, restaurants, retail shops, and housing along the Potomac River.
There is a second phase of the Wharf, scheduled to be completed in 2022, which brings an additional 1.2 million square feet of development. A new stadium for the DC United, Audi Field, opened in 2018, and the surrounding area is being developed into housing and entertainment venues.
The median home value in this area is about $493,000 and it's projected to rise by about 1.5% in the coming year. While the market isn't quite as hot in this area as others in the District, the Wharf and other development make this a smart investment area, as big changes in recent years have brought quite a bit of growth to the area.
6. Upper Georgia Avenue
Georgia Avenue hasn't seen a ton of growth until recently. The former Walter Reed Medical Center is being redeveloped over the next two decades and promises to bring big changes to the area.
When it's all said and done, the development is expected to provide over 3 million square feet of housing, retail space, and office space, including over 2000 condos and apartments.
20 acres are designated to be open space and the Parks at Walter Reed will hold activities such as fitness classes, outdoor concerts, and festivals.
Investing in Communities Along the DC Green Line Is a Wise Move
The DC Green Line is home to some of the fastest-growing neighborhoods in the DC area. If you're looking to invest, areas on the Green Line should be strong contenders in your search.
Once you've purchased your DMV property, get in touch with us. We provide property leasing services from screening tenants to collecting rent to handling repairs.
Ready to Invest?
We're the DMV's Go-To Leasing, Management, and Sales Professionals | So you can have Peace of Mind.