It is not unusual for property owners to install new appliances or update their current ones from time-to-time. Adding new appliances for rental property, such as a dishwasher or washer and dryer, can add value. Likewise, updating your current appliances to higher-end models can attract more lucrative tenants and allow you to charge more rent.
Appliances can also be expensive, though, so you'll want to be sure you're getting the best option for your budget. Whether you're a new property owner or a veteran landlord, there are some things you should consider before buying new appliances for your rental property.
The Basics
Before you begin appliance shopping, ask yourself general questions to help narrow your search.
1. Think About Tenant's Expectations
Will they be satisfied with something basic or will they expect top-of-the-line? If you're marketing to college students and young professionals, and you've got a small studio or efficiency, it may be best to stick with basic appliances. If you're renting a house to a large family, higher-quality appliances might be better to keep up with the amount of use.
2. Decide on a Finish
Stainless steel is the most popular finish when it comes to appliances. Some owners choose to go with an all-white or all-black finish, however, for cost or aesthetic reasons. If a completely uniform look is important to you and your renters, you'll want to stick with the same look across all appliances.
3. Look for Energy-Efficient Appliances
Energy-efficient appliances will save you and your tenants money on the electricity bill every month. Keep an eye out for the Energy Star symbol on appliances you're considering for purchase.
New appliances can attract higher-end tenants, allowing you to charge more rent. They are also more energy-efficient. What are the most popular appliances to enhance your unit's value? We outline them next.
The Best Appliances for Rental Properties
Keeping your rental appliances up to date can do wonders for your property. Here are the appliances you should definitely consider updating regularly to attract prosperous renters, charge higher rent, and lower utility bills.
1. Stoves
There are a few factors to consider when updating a stove on your property. They include:
Range or Cooktop?
You need to choose between a full range or a cooktop, depending on your kitchen's layout. Ranges include both the cooktop and the oven in one unit. Cooktops are separate from the oven and allow for storage space underneath. Ranges are more common than cooktops and separate ovens.
Gas or Electric?
One of the main considerations in choosing a stove is whether to go with a gas or electric stove. In terms of everyday cooking, both types of stoves will meet a tenant's needs. The type of hookup you have generally determines which one you choose. Gas stoves require a gas hookup, whereas electric stoves need an electrical outlet with the right voltage. Changing the type of hookup you have can be expensive so it's best to go with whatever is currently in place.
Cost
Gas ranges are more expensive than electric, but natural gas is more cost-effective in the long run. Again, it's best to go with the type of hookup already installed at your property as changing this can be costly.
Safety Precautions
Both gas and electric ranges bring potential safety hazards. Gas ranges pose the risk of carbon monoxide poisoning, while electric ranges can cause a fire or electrocution if they're not installed properly.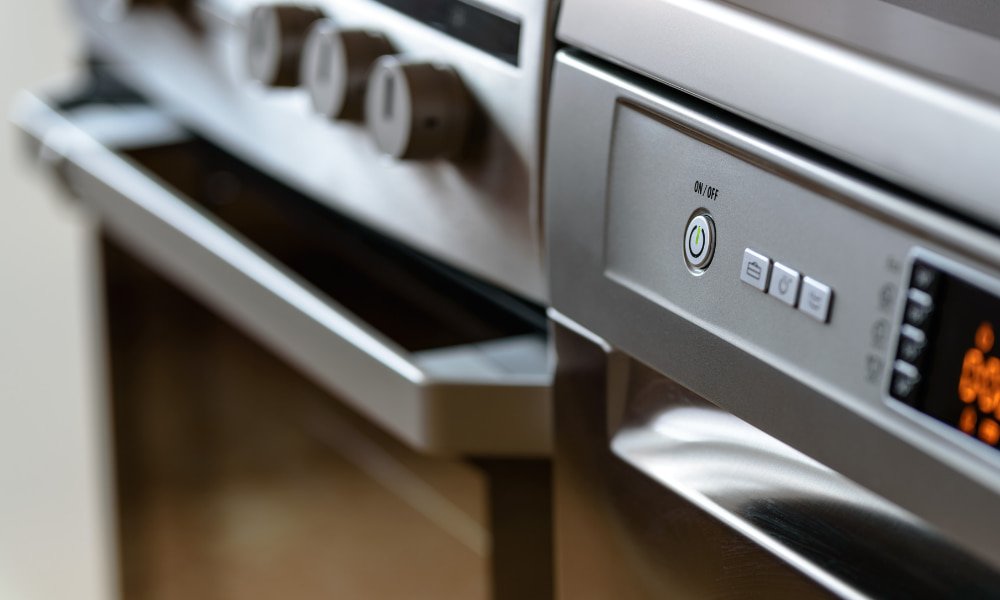 2. Refrigerators
There are many different refrigerators on the market today that run the gamut from basic to extremely high-end. You can narrow your search by taking into account the following categories.
Size
In addition to measuring the length, width, and depth of the space for your refrigerator, you'll want to allow clearance for the doors to swing open. If there's a kitchen island or another appliance close by, measure the distance so you can be sure the refrigerator door won't collide with anything.
Door Type
There are several door styles to choose from.
French Doors. There are two doors that swing outward and there's usually a freezer space on the bottom.
Side by Side. This style houses the refrigerator on one side and the freezer on the other with both sides taking up equal space.
Top Freezer. A more traditional and budget-friendly option with a freezer space at the top and the refrigerator running from the middle to the bottom of the unit.
Other Features
Ice makers and water dispensers are two features that are popular with renters. Keep in mind that ice makers can leak and water dispensers will need regular maintenance (changing the filter, etc.).
Want to find out what your home is worth?
Get an instant market report sent straight to your inbox in seconds.
3. Dishwashers
Installing a dishwasher can make your space more attractive to tenants. Dishwashers are almost a necessity for larger spaces that will house families or roommates.
Self-Cleaning or Manual?
Older dishwasher models tend to have self-cleaning filters that remove food and debris that's washed off during a cycle. Newer models may have filters that require manual cleaning from time to time. It's important to understand the cleaning procedures required for proper maintenance, whichever type of filter you choose.
Compact or Standard?
If you own a studio or an efficiency with a small kitchen, compact size is probably best. If you own a one-bedroom apartment or a house, the standard size will most likely be necessary.
4. Washers and Dryers
You may want to consider adding a washer and dryer to your unit if you don't have them to increase your property values. Most tenants look for these appliances in their rental search.
Types of Machines
The options are washers and dryers are as follows:
Stackable
Frontloading
Combined unit (capable of washing and drying in the same machine)
Full-size top load units
If you've got a small space, it may only be feasible to install a stackable or compact unit. If you've got a whole laundry room or basement, however, you should consider larger machines.
If you've already got an electric hookup, stick with an electric washer and dryer. If your property is wired for a gas unit, though, go with gas. Changing the type of hookup that's already in place can be expensive.
Contact the Residential Real Estate Experts With Property Management Questions
It's important to select the right appliances for your rental unit, whether you've just purchased your first investment property or your tenth. It can mean the difference between a higher value unit that attracts better prospects and lowers utility bills and one that doesn't. If you have any questions about investment properties, or if you're looking for reliable property management in Greater D.C., contact our team of experts at Nomadic Real Estate.