Your Guide to Modern Medical Clinic Design
Having a modern medical clinic is a great way to attract new patients and make your existing patients comfortable. Creating the look you desire will take some careful planning, but it'll be worth it in the end once you generate an entirely new experience for everyone who walks through the doors.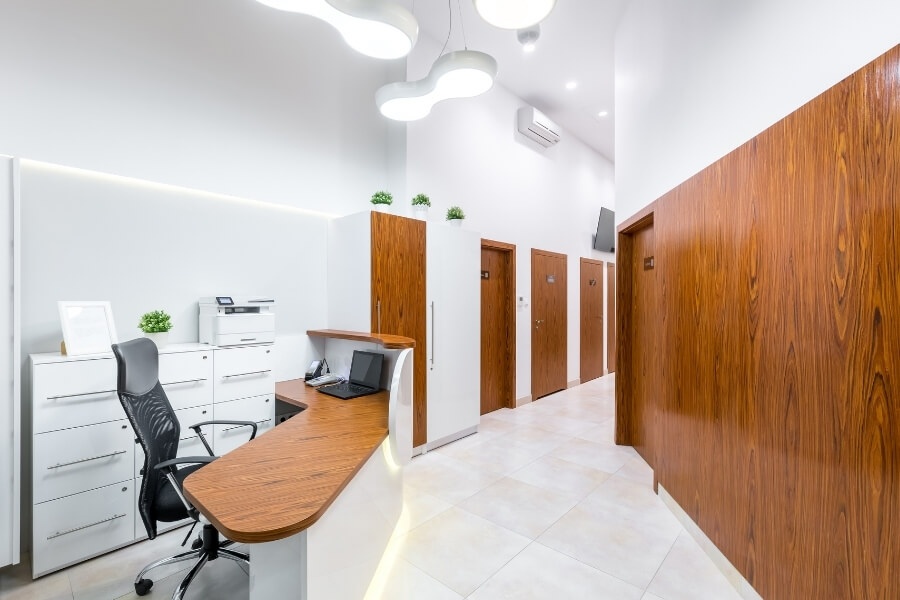 Most modern clinics incorporate contemporary or futuristic design elements while adding to the building's functionality. The purpose is to develop a space that stands out from past generations' bland and dreary medical offices.
Redesigning your medical clinic provides the opportunity to go with an entirely different appearance and theme that will make your practice stand out. This guide will take you through some features you might consider, including throughout the medical clinic design process. 
How to Plan a Modern Medical Clinic
Developing a plan for your modern medical clinic will take some effort. You'll want to carefully consider what will work for your space and what won't to ensure your design adds to the appeal of your practice. Try to incorporate the following elements into your planning process for the best results:
Think of Functionality 
You could create the most beautiful office in the world, but if it isn't practical, it's unlikely to work out for you. Remember that the most critical aspect of any medical clinic is its functionality because it's, first and foremost, a place to treat patients. Aesthetic appeal is always a distant second after utility. 
Speak With Staff 
Your staff can provide valuable input as you develop a design plan because they know what's important from a functionality standpoint. Your receptionists and techs will inform you of what they feel your current layout is missing, so you can make adjustments during your renovation. 

Visit Other Offices
Contemporary medical clinics in your area could provide valuable ideas on proceeding with your design. You can take elements from these other offices or use their designs as a template. These offices can also show you what isn't working so you know what to avoid while planning your overhaul.
Get Expert Assistance
It often pays to seek the assistance of an interior design professional, particularly someone with experience in the medical field. The insight your designer can provide is invaluable because this individual will know how to incorporate elements that match your vision. Interior designers can also help you source contractors and procure furniture. 
Planning your modern medical clinic is a multistage process that will take some time to complete. Receiving input along the way can make your job far more straightforward and lead to better outcomes when the office is ready to reopen. 
7 Design Ideas for Your Modern Medical Clinic
The design you ultimately come up with will depend on your unique vision of a modern medical clinic. There are some elements that many contemporary offices include, though, so it's advisable to consider them before you begin.
1. Open Spaces
You don't want your office to feel small and cramped, but incorporating open areas is sure to help. Using space in the waiting room can make it feel larger than it is while leaving space for décor and other design elements. 
2. Bright Lighting
Traditional medical offices often use fluorescent light bulbs, which can negatively influence a patient's psyche. These lights can cause sleepiness and make individuals in the waiting room feel worse before their appointments. Switching over to LED lights creates a brighter environment that can act as a mood booster for people before they see a doctor. 
3. Large Windows
Installing large windows in the office allows for natural light, making the office even brighter. People feel more comfortable when surrounded by natural light, and having the opportunity to look outside while waiting for the doctor can also reduce stress and anxiety. 
4. Chic Furniture 
The furniture you select can significantly influence the overall appeal of the office. Look at modern furniture designs before choosing items for your office to ensure you're creating the right look. Seating, desks, tables, and other furniture in your waiting and examination rooms work together to define the clinic's overall appearance. 
5. Sustainable Elements 
A growing trend in medical clinics is including sustainable items like green spaces and passive shading strategies. Your ability to incorporate these designs into your office will depend on the amount of space you have available, but building an outdoor waiting room with trees and plants is a great way to keep patients comfortable while doing your part for the environment. These trees can also provide shade for your windows, reducing your energy bills in the summer.
6. Use of Technology 
Incorporating technology into your design is a must. Elements like LED screens, tablets, workstations, and phone charging areas can all make your patients feel more comfortable while waiting for an appointment. You'll probably want to offer free Wi-Fi and other benefits as well.
7. A Clear Identity
Your modern medical clinic design should come together to create a clear identity for your practice. It isn't enough to throw some modern elements together and hope it works out because you'll want your contemporary furniture and décor to assist with branding your practice, giving patients a reason to remember you fondly and hopefully return in the future. 
Including some of these ideas as you design your modern medical clinic can help you update your office in a hurry. You can still take the renovation in many different directions, though, depending on your personal preferences. 
Get the Expert Real Estate Help You Need 
Those establishing a new medical clinic in the Greater D.C. area might also be looking for a new home. Nomadic Real Estate provides expert sales, leasing, and property management in the region, so we can help.
Our family-owned and -operated business has helped individual owners and investors with their residential properties for over a decade, with hundreds of satisfied clients. Contact our team today with your property management needs.