Homes in the Washington, D.C. area are in high demand, and you can understand why if you've ever visited the area: In D.C., you get the best of culture, career, education, and beautiful scenery. The region alone puts your rental property on the map as a potential next home for renters, but knowing how to keep your home in tip-top shape while occupied will be key in maximizing its long-term value.
When you decide to rent to tenants, you'll want to protect your residential real estate investment. Hardwood floors are one of the highest-requested and most timeless assets in a home, but they also require constant care to ensure they last for decades to come. Having the right maintenance plans in place will help you effectively protect yours from damage ― and preserve your real estate investment's value. 
Risks of Hardwood Floors in a Rental Property
Your hardwood floors take quite a beating as tenants come and go throughout their daily lives, move their furniture around, have family and friends over to visit, spend time with their pets, or weather the changes in seasons. Every interaction with (or on) your floors can impact their lifespan, so you'll want to pay close attention to the condition of yours if you want to maintain the value of your property.
Some common types of damage to hardwood floors include:
Scratches and dents ― Scratches and dents happen over time, especially as tenants move throughout the space. Furniture legs, high-heeled or cleated shoes, luggage, pet nails, children's toys, and more can all leave their marks in one way or another.
High-traffic wear and tear ― Any kind of flooring naturally becomes worn down in high-traffic areas over time, especially entryways, doorways, and specific paths around furniture.
Burns ― Sparks from fireplaces, dropped matches, or ashes from cigarettes can leave burn marks on wood flooring. 
Spills ― Dark-colored juices or wines and acidic substances like coffee or soda can all tarnish wood floors, especially those that are lighter in color. Light-colored substances can also cause damage like warping if not cleaned up quickly.
Relative humidity ― Excessive moisture and arid conditions both inside and outside the home can be damaging to hardwood floors. Dry conditions can cause gapping between planks, while high humidity can bring on warping, rotting, mildew, or mold growth.
Water ― Everyone knows water can have a devastating impact on wood, causing rotting, warping, mold, and other unpleasant issues. Hidden leaks or unchecked condensation can do as much harm over time as an overrun tub, burst pipe, or appliance malfunction. 
Protecting Hardwood Floors
Now that you know some of the major risks to your hardwood floors, how do you protect them from tenants' everyday wear and tear or accidents? The good news is there are some opportunities to minimize stress to your floors. All it will take is a little planning on your part, and perhaps asking that your renters do theirs to keep your home looking its best.
Here are some of the tips you could provide your tenants to help with this process.
Furniture Pads
Fabric pads or sleeves are great ways to prevent inadvertent damage that is caused by sliding furniture on your hardwood floors. The pads stick to the bottom of furniture legs to provide an easy, smooth slide (and also minimize noise!). Heat-activated coverings are effective for chair, couch, or table legs to cushion them from scratching, denting, or gouging the floor with repeated use. You can easily request that your renters use such solutions on their furniture legs to prevent damage.
Rugs
You may not be able to mandate that your tenants use these, but suggesting them often goes a long way toward implementation.
Area rugs and runners are your best friend for floor protection. They protect from drips and spills in the kitchen, for example, as well as limit the amount of wear and tear done to high-traffic areas, provide cushioning for your children in their play rooms, shield the floor from hard toys and pets' nails, offer comfort in living rooms, and add a barrier between the floor and all the activities of daily life. 
Bonus point: They're also stylish ways to help your renters express themselves while spending time in your rental home.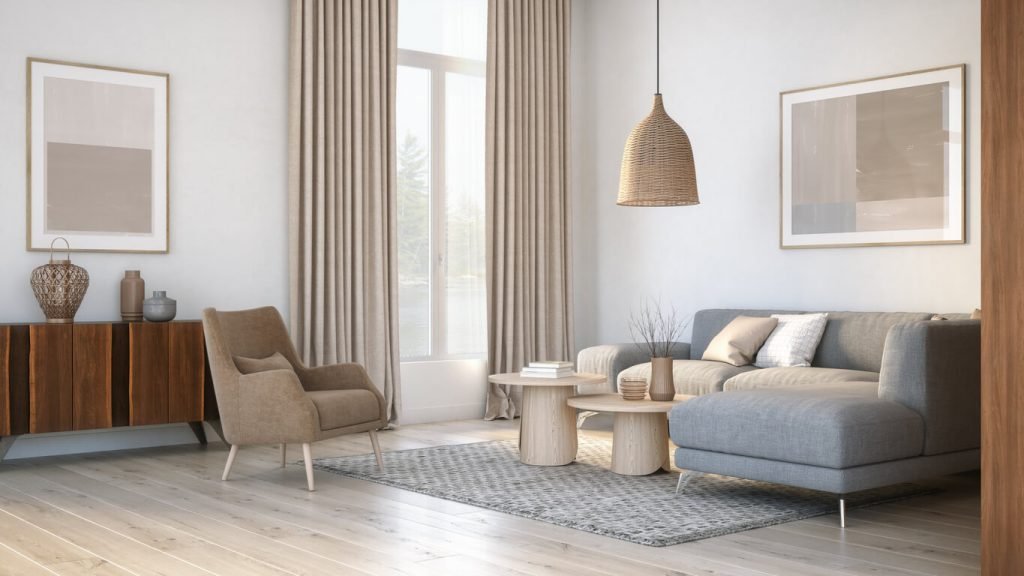 Rearrange Furniture
Recommending that your tenants periodically rearrange their furniture might seem crazy, but it's actually really helpful in terms of minimizing wear and tear on hardwood floors. Humans are creatures of habit, and we tend to walk the same path through rooms over and over ― which can create uneven wear and tear on flooring. Rearranging the furniture occasionally will distribute the weight-bearing load from place to place and prompt your tenants to walk a new track around your furniture. 
Use Floor Cleaner
This one you actually can mandate as part of your rental agreement. A great way to preserve your hardwood floors is to add a floor cleaner to your mopping routine, and you can easily request that your tenants do this step as part of the process for keeping your rental property nice during their occupancy. Make sure that the product is specifically designed to be used on hardwood floors, though, and consider providing it to your renters periodically to ensure they're using one you like. Using a harsh cleanser often does more harm than good.
If you're using a property management company for maintenance at your rental property, they should be familiar with the cleaning requirements for your hardwood floors. A property manager may have cleaning services in-house at their company, or they may use a third party professional cleaning company for turnovers in between tenants–if your hardwood floors have specific cleaning requirements, make sure your property manager communicates these requirements to their cleaning staff to ensure maximum longevity for your flooring, because improper cleaning can cause costly and unnecessary damage. If your floors are professionally cleaned using the correct cleaning products, they'll last for a long time and will look great for your next tenants!
Refinish Every Few Years
Your hardwood floors need repairs and refinishing every three to five years, depending on the degree of damage or wear. That may require sanding, staining, and a new clearcoat protective layer added, or simply cleaning, minimal repairs, or just adding a new finish. 
Maintaining Hardwood Floors
Your car needs to be maintained for dependability, safety, and resale, and your hardwood floors require the same care. They are a significant investment, after all, and you'll want to preserve and protect them to keep your home desirable for future tenants or buyers.  Here are a few of the maintenance basics you need to know to keep your floors looking their best for as long as possible:
Dirt is your enemy. It is not only unsanitary and unsightly, but it is highly abrasive and can create buildups and damage over time.
Cleaning hardwoods requires finesse. Sweeping just moves dirt around and drops it into crevices and corners, while the dust is propelled into the air to settle elsewhere, meaning its not the best way to get rid of dirt and dust.
Mopping after sweeping means you have all the makings for mud varnish. 
The best way to rid hardwood floors of dirt is to have tenants vacuum thoroughly using a hardwood floors-appropriate attachment at least once per week, or every two to three days if they have a busy household or pets. They can then use a damp sponge mop to take care of spills or stubborn spots. This is also where you should have tenants use that floor cleaner.
Choose a Knowledgeable Real Estate Management Team
When you can't keep an eye on your residential real estate investment property, you need someone you can trust to do it for you. Nomadic Real Estate has been serving the Washington D.C., Northern Virginia, and Maryland area with real estate leasing, property management, and sales services for 15 years, offering:
Zero work order markups, renewal fees, or upfront costs
100% commitment 
Client-centric operations
Same-day response
Transparent communication
Commitment to clients' peace of mind
To discuss your residential real estate needs or find out more about our leasing, D.C. property management, and sales services, contact Nomadic Real Estate today.