Washington DC is an area within the US that is rife with history and culture.
Neighborhoods in Washington DC vary from up-and-coming to popular and expensive. Although it might seem overwhelming, it's not as hard as you might think to find the best places to buy this year.

We've compiled a guide about the best locations in the area to consider when purchasing a home in DC. Let's take a brief look at our Washington DC neighborhood map.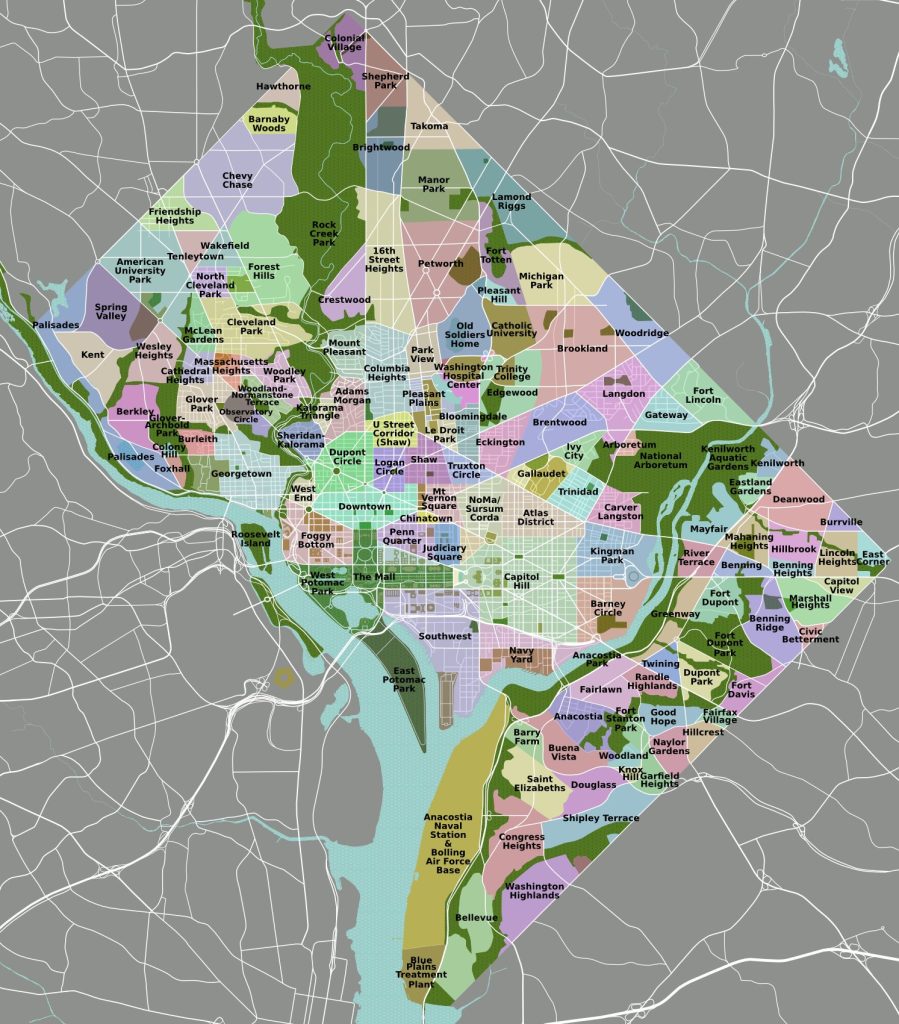 Georgetown
The historic and upscale Georgetown neighborhood has some of the most expensive real estate in the nation. As such, it is home to many designer boutiques and high-end restaurants.

Most homes sit along picturesque waterways, such as the Potomac River which is lined with several gorgeous waterfront mansions and estates. Streets here are narrow, winding, and often made from cobblestone. This helps give Georgetown an antiquated feel.

This area also experiences heavy traffic congestion due to its close proximity to downtown while having very few options for public transportation beyond buses or cabs/Uber/Lyft.
Columbia Heights
Columbia Heights is on the rise as an up-and-coming area. Rents are affordable compared to other more established areas, and there is plenty of transportation nearby.

Neighborhood amenities include several parks, multiple planned commercial plazas, grocery stores, boutiques, and restaurants. It's a great place for those who are looking for a home in a more relaxed part of Washington DC.
Dupont Circle
DuPont Circle prices have risen quickly over the past few years as homebuyers seek out this highly walkable location just south of Embassy Row. It offers easy access to public transportation systems like the DC Circulator and Metro station, making a commute to work a nonissue.
Upper Northwest
Upper Northwest boasts beautiful turn-of-the-century homes that have been preserved and renovated over time.

While there aren't many commercial business options in this area, residents can walk or bike to several nearby cafes and restaurants thanks to a large amount of green space near Potomac Park and Rock Creek Park.
Columbia Heights West
Columbia Heights West offers easy access to multiple bus lines and the Columbia Heights Metro station. This up-and-coming neighborhood is rich with arts, culture, and vibrant nightlife options.

Housing options range from small starter homes to larger luxury properties. This area is great for families of all sizes.
Mount Pleasant
There are several commercial corridors in the area as well as popular annual festivals like the Taste of DC, Adams Morgan Day Festival, and Columbia Heights Day Festival. This area also includes many historic landmarks such as Fort Stevens and Rock Creek Tennis Center.
It has a quiet suburban atmosphere that many people seek when moving to DC.
Columbia Heights
Columbia Heights offers new luxury homes at extremely affordable prices that can't be beaten. You'll find new construction along with historic craftsman-style homes tucked away on quiet streets just blocks from public transportation.
Most people in Columbia Heights likely moved therefore the beauty and tranquility.
Navy Yard
The Navy Yard is a neighborhood known for its newly built luxury properties. It also has plenty of history associated with it. In fact, the Navy Yard is the Navy's oldest shore establishment.
It features several shopping plazas, historic homes, public tennis courts, and the Navy-Marine Corps Memorial Stadium.

This area has become extremely popular in recent years thanks to all of the new apartment buildings. It also has an expanding shopping district that is home to plenty of high-end brands that buyers can enjoy. So, consider this area for your home if you don't mind a bit more hustle and bustle compared to some of the other areas on this list.
Ballston-MU
People looking for more affordable housing options might choose Ballston or even farther out beyond West Falls Church where homes can be as much as 60% less expensive than areas like Reston Town Center or McLean.

This area offers an easy commute via car on I-66 or I-395 along with regular bus service and the Metrorail Orange Line in nearby Clarendon.
Columbia Pike
Columbia Pike is a neighborhood in Arlington with a developing restaurant scene and shops along Lee Highway. It also has easy access to major highways, I-395 and Route 50 as well as Washington D.C. itself. Over time, Columbia Pike will likely prove to be one of the best areas to own a home.
This is to to the fact that real estate will increase in value as the area develops. Although not everybody is concerned with this, it's a great option for those who are looking to eventually upgrade their home. Additionally, it's not quite as expensive at the moment as other areas of Washington DC are.
Springfield
Springfield has recently seen a surge in the number of new apartment buildings, homes, and shopping centers. This is a safe area with easy access to major highways including I-95 and Route 7. Keep this information in mind when moving forward. It will help you make the decision that is best for you.
This Washington Dc Neighborhood Map Can Be Invaluable
When it comes to purchasing residential real estate in this area, it can help you find the best houses in Washington DC. So, be sure that you consider this Washington DC neighborhood map when looking for property.
Want to learn more about what we have to offer? Feel free to get in touch with us at Nomadic Real Estate today to discuss your residential real estate needs.