Collecting the first and last months' rent from new tenants prior to giving them keys is a common practice among landlords nationwide. When executed correctly alongside a formal written agreement, collecting these fees means landlords and tenants have established legal and financial obligations to one another to help ensure a respectful relationship.
Although simple on the surface, asking that tenants pay these expenses upfront creates transactional nuances that are worthy of attention. Familiarizing yourself with the information in this guide can help prepare you to more efficiently manage your rental property.
First Month's Rent
Landlords often require payment of first month's rent and a security deposit before tenants gain access to their rental properties. The practice is meant as a security measure, ensuring landlords have at least two months' rent paid should a tenant decide he or she no longer wants to terminate the lease or early or otherwise stops paying. Here are a few tips to help you keep track of your obligations as a landlord.
Understand the State Laws
You should familiarize yourself with your state's landlord-tenant laws — guidelines put in place to protect all parties engaging in the rental process — before crafting your rental agreement or listing your rental property. These rules dictate which fees you can assess — like first month's rent, a security deposit, or other upfront charges — and provide broader guidance on how rent payment transactions should be carried out in the future.
Landlord-tenant laws also outline conditions like:
Whether a rental agreement is mandatory and which details must be present or excluded from the document
How much a landlord can charge for a security deposit, as well as requirements for handling this money during a lease and when a tenant moves out
Ground rules for grace periods and late fees on monthly rent payments
Familiarizing yourself with the local and state laws surrounding rental properties will help protect you and your renters from potentially costly mistakes, some of which could land you in small claims court. If you need help to understand the information, seek legal advice or consult with a local real estate expert.
Make Sure All Initial Payments Are in the Rental Agreement
The rental agreement is a contract signed by both landlord and tenant that lays out the lease terms. In most states, written agreements must contain details such as:
Name and address of landlord or property manager
Address and description of the rental unit, usually including the condition of the premises as signed off by landlord or tenant during an inspection before move-in
Amount and payment schedule for all fees being assessed — first and last month's rent, security deposit, monthly rent, etc.
Duration of the lease
Other clauses or addendums (applicability based on state landlord-tenant laws) that help to shield both parties from wrongdoing
A critical component in avoiding legal ramifications is to include as part of the rental agreement detailed information about the upfront fees you plan to charge. You should record each item individually, being sure to include:
Purpose of the fee (first month's rent, last month's rent, security deposit, application fee, etc.)
Amount of each fee
Date each fee will be collected
In the case of a security deposit or other refundable charge, it is best to refer to your local and state laws or a real estate expert for guidance on how to properly detail the management of these funds in the written agreement.
Collect Separate Payments for Rent and Security Deposit
States that allow security deposits often have specific rules about how this money should be handled during and after the lease. State-specific stipulations may include things like:
Security deposit limits (deposit cannot exceed one month's rent, two months' rent, etc.)
Circumstances that allow a landlord to withhold a deposit (late or unpaid rent, damage exceeding normal wear, a broken lease, etc.)
Guidance on managing money (where deposit should be stored, whether interest is owed to the tenant, etc.)
In addition to including the particulars of your security deposit and other fees, an essential step in protecting yourself from violations of security deposit law is to collect separate payments for non-refundable fees (like first month's rent) and security deposits. Doing so will allow you to more effectively track and report on the status of each as well as any earnings or expenditures.
Many states also require that landlords include a receipt for the security deposit with the rental agreement. This is easier to provide with separate payments.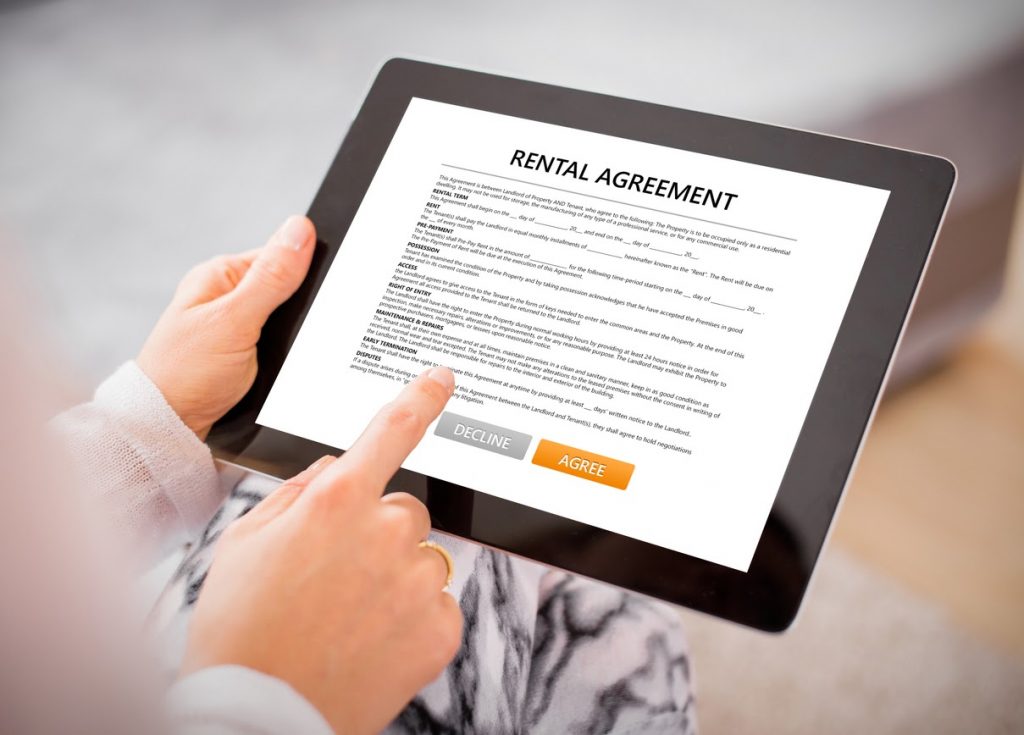 Last Month's Rent
"Last month's rent" refers to the collection of money equivalent to the payment of one month's rent that is intended to cover the end of the lease. Like first month's rent and security deposits, many landlords require payment of the last month's rent when the rental agreement is signed. There are several pros and cons to requesting last month's rent at the start of a lease.
Improve the Quality of Tenants
One of the primary benefits of requiring payment of last month's rent at the beginning of a lease term is that it can help to improve the quality of tenants applying for the rental property. If the rental listing clearly states that this and other fees are due upon signing of a contract, you'll likely be consulting with financially secure applicants who are prepared to cover these expenses.
More Coverage for the Landlord
Requiring that a tenant pay last month's rent when the rental agreement is signed is one way to protect yourself against the financial implications of any change in tenant circumstances that could lead to late or unpaid rent. When writing a requirement for last month's rent into your rental agreement, make sure you understand what is allowed in your area. Many states factor last month's rent into the value of the maximum security deposit you can charge.
Fewer Tenants in the Applicant Pool
Although requiring a significant financial investment upfront may improve the quality of your applicant pool, it can also shrink that pool substantially. Even in high-demand areas, asking for too much too soon can be a turn-off for renters that would otherwise meet all your criteria.
Rent Increase Dilemma
Another challenge that comes with asking that a tenant pay for the end of the lease at the start of the term is that it becomes your responsibility to recoup the cost as rental rates rise. If you increase their monthly rent from $1,200 to $1,500 over the life of the tenant's lease, you have to collect the additional $300 separately. Otherwise, when the renter gives written notice of the termination of their lease, you have to apply the earmarked last month's rent from the start of the lease — and they aren't liable for the difference.
Work with a Professional Property Manager
Collecting first and last month's rent can be complicated, but the experts at Nomadic Real Estate are here to help. Contact us today for more information on how our DC property management and leasing services can simplify these processes for you and help you make the most of your income property investments.