Washington, D.C., is not only our nation's capital, it's also a place that has made a lot of history over the years. Residents and visitors alike can't travel more than a few minutes without coming across important and historical places to visit, particularly in the downtown area.
Washington's most famous resident is the United States president, but members of Congress also call it home, and their workplaces are some of D.C.'s most famous sites. There are monuments all over D.C. too, providing information on historic figures from the nation's past.
Politics and history aren't the sole focus, though, as D.C. has modern landmarks that make it a world-class metropolis for locals. Washington is essentially two different cities – one catering to visitors and the other focusing on providing amenities to the area's residents. This guide will examine some of D.C.' s best-known landmarks for both tourists and locals.
D.C. Landmarks That Tourists Visit
Visitors to D.C. will spend much of their time exploring historical structures, museums, and monuments. The area is packed with sites that enjoy worldwide fame for their beauty and their place in history. Some of D.C.'s best-known landmarks include:
The White House
Located at 1600 Pennsylvania Avenue, the White House is the residence and workplace of the president of the United States. Construction on the building was completed in 1800, and every U.S. president has lived there since. Prebooking is a requirement for White House tours, and visitors can get a decent view of the building's exterior from Pennsylvania Avenue.
The Washington Monument
A short distance south of the White House is the Washington Monument, a structure built in the mid-1800s to honor the United States' first president, George Washington. The monument is the world's tallest stone structure and, at one point from 1884 to 1889, was the tallest structure on the planet. Visitors can go inside the Washington Monument with a ticket.
The U.S. Capitol
The U.S. Capitol is where the nation's Congress meets. It is a historic building that first opened in 1800, although it was partially destroyed in 1814 and later rebuilt. Visitors who want to tour the U.S. Congress building will have to book an appointment in advance, with the caveat that there are separate tours of the Senate and House galleries.
The Lincoln Memorial
The Lincoln Memorial was constructed from 1914 to 1922 in remembrance of President Abraham Lincoln. The structure features Greek Revival architecture and a large statue of Lincoln himself, making it one of the country's most recognizable sites. The Lincoln Memorial is also where Martin Luther King Jr. delivered his "I Have a Dream" speech.
The National Mall's Museums
Museums are everywhere at the National Mall, including the National Museum of American History, the National Museum of Natural History, the National Gallery of Art, the Smithsonian Institution Building, and the National Museum of African Art. Visitors can spend days exploring these historical sites and learning about the country's past.
Few cities in the world can rival the stunning collection of landmarks that D.C. has to offer. Those who live in Washington, however, often explore sites that the average visitor might miss.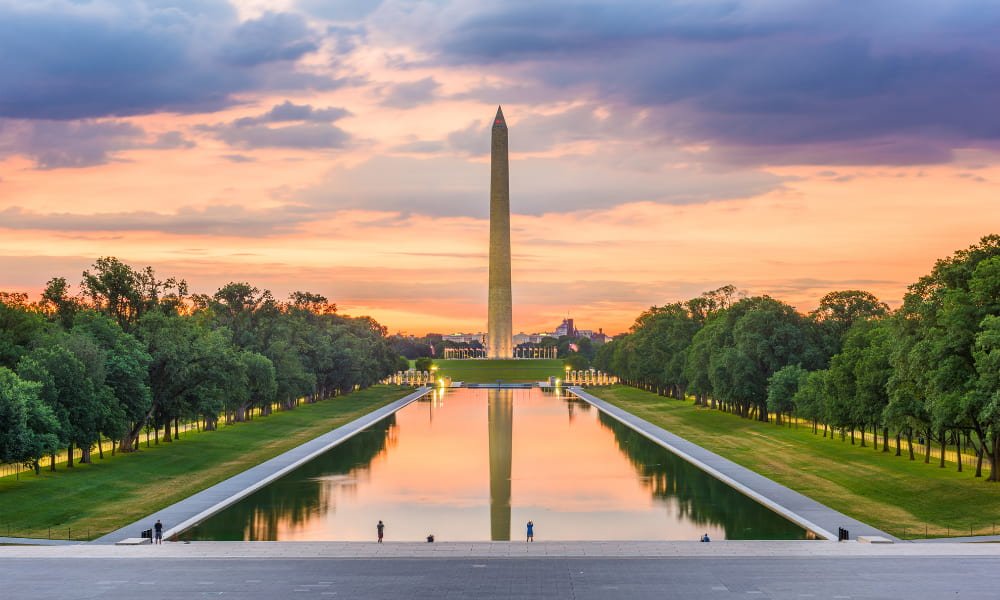 5 D.C. Landmarks Favored by Residents
It can be a struggle getting used to living in Washington, D.C. because so much of the area focuses on history and government. Area residents tend to eventually look beyond the historical sites to carve out some favorite places of their own so they can avoid the crowds and enjoy the amenities this city offers. Here are some popular places to spend time if you're looking for a break from the throngs of tourists.
Want to find out what your home is worth?
Get an instant market report sent straight to your inbox in seconds.
1. The Wharf
The Potomac River runs through D.C.'s heart from the Chesapeake Bay, giving the area a waterfront. The Wharf, which sits just south of the National Mall, is a multibillion-dollar mixed-use facility featuring restaurants, hotels, shops, parks, concert venues, and a marina. The result is a development that all Washington residents can use as a full-service entertainment district.
2. Georgetown
Another landmark district in Washington is the famous Georgetown neighborhood. This area dates to 1751, predating Washington's establishment as the nation's capital by about 40 years. It features historic buildings such as the Oak Hill Cemetery Chapel and the Old Stone House, the city's oldest home. The neighborhood also has a canal, a historic university, and an entertainment district, making it a site that residents love visiting.
3. Union Station
Washington's Union Station is one of the East Coast's most vital transportation hubs, providing service to cities such as New York, Boston, Baltimore, and Philadelphia. Local commuter rail, streetcar, metro, and bus lines also depart from the station. The building, which opened in 1907, is certainly a landmark, but locals appreciate its functionality.
4. Nationals Park
One of D.C.'s newest landmarks is Nationals Park, home to the 2019 World Series Champion Washington Nationals. The stadium has 41,546 seats and enjoys a scenic location near the Anacostia River. There is also a surrounding entertainment district that Washington residents make full use of, particularly in the summer.
5. Chinatown
Chinatown is a small section of downtown Washington that was once home to thousands of immigrants from China. Today, the area features historic architecture such as the Friendship Archway and countless 19th-century buildings. The district is currently best-known for Capital One Arena, home of the Washington Capitals and Wizards.
Whether you're visiting this beautiful city or are considering relocating here, you will quickly learn that Washington, D.C., has something for everyone. Local real estate experts are a great source for additional recommendations and hidden gems that might not be well known.
Relocating to Washington, D.C.? Let an Expert Help You Find the Right Home
When you're in the market for residential real estate services, look no further than the team at Nomadic Real Estate. Our experts provide property management, sales, and leasing to property owners in and around Washington, D.C., plus help connect tenants with the perfect rentals to fit their needs.
Contact us for more information on living in Washington, D.C., and for a look at how its world-class facilities and comfortable properties can make you feel right at home.
Alternatively, if you are looking for a place to rent, check out our DC rentals.