With a near 5 star review, the Bethesda Trolley Trail is a must-do for anyone in Bethesda who loves walking, jogging, or cycling.
The availability of safe, pleasant, and convenient urban trails is, in fact, one of the top reasons to move to Bethesda!
This is why, if you already are in the area, exploring the Bethesda Trolley Trail is a great idea.
However, before you head out, what is an even better idea is to find out more about the trail, so that you can enjoy it to its fullest.
Which is where we come in! We are about to share with you everything you need to know about the Bethesda Trolley Trail so that you can start exploring it just like a Bethesda local. Read on.
The History of the Bethesda Trolley Trail
The Bethesda Trolley Trail is a relatively new urban trail, but it has its roots buried way back. This is because the trail follows the course of the Rockville Railroad, utilizing the abandoned right-of-way.
The rail line has a long history, with rail cars beginning to run the line back in 1980. Over a hundred years later, in 1990, planning for the construction of the trail began, after the idea was suggested in Montgomery County's 1978 Countywide Bikeways Master Plan.
In 2002 construction of the trail went underway. 2009 saw the last remaining sections of construction completed.
Where It Starts
Now that you know how the Bethesda Trolley Trail started, let us take a look at where it starts.
Connecting Bethesda and North Bethesda, the Trolley Trail begins at Flemming Park, off Fleming Road in North Bethesda. From here it bridges two major highways, the Interstate 270 and Interstate 495 (also known as the Beltway).
These pedestrian and cyclist bridges have connected two residential areas that although being close together, were relatively cut off from one another prior to completion of the trail.
In Bethesda, the trail ends beside the Old Georgetown Road. Of course, you can also choose to access the trail from different points along its route, if you are not planning to walk/cycle/jog the whole length, or wish to start from the other end (Old Georgetown Road).
Want to find out what your home is worth?
Get an instant market report sent straight to your inbox in seconds.
The Trail Length
Speaking of length, how long is the Bethesda Trolley Trail? Officially, it is 4 miles long. However, thanks to the easy access to additional routes that connect to the trail, you can extend this length up to 6 miles +.
These additional routes run around the Georgetown Prep School, Fleming Park and the National Institutes of Health campus. If you are looking to add more miles to your circuit, then be sure to explore these additional sections of trails and paths.
What the Bethesda Trolley Trail Terrain Is Like
As the Trolley Trail is paved in almost all sections, except for one short strip of dirt, the terrain is smooth and easy on the feet. No uneven footing on this route!
However there is some elevation as you approach North Bethesda, so be prepared for an uphill climb.
Additionally, the trail sections that run along the old rail line right-of-way are connected by sections of sidewalk as well as the pedestrian and cyclist only bridges that span the two highways.
This means that you will need to keep tabs on where to turn to keep on the trail, and if you are jogging or running you will need to watch your footing at these sections.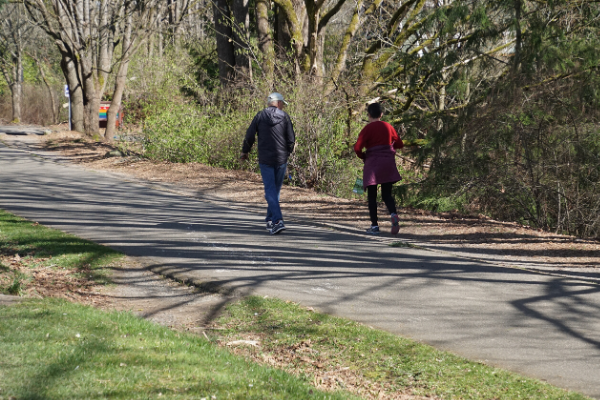 Where to Park
Wondering where to park? One of the easiest places to park to gain access to the Bethesda Trolley Trail is at the Fleming Local Park, off Fleming Road, in North Bethesda.
Alternatively, you can also look for parking at Old Georgetown Road & Southwick Street if you want to traverse the trail from the opposite side.
When to Go
When is the best time to go on the Bethesda Trolley Trail? Well, that depends on you.
However, what we can say is that pedestrian and cyclist traffic peaks noticeably at 5 pm, after which point it quietens down dramatically. Mornings, midday, and early afternoons are also relatively quiet on the trail compared to the 5 o'clock peak time.
If you really want to have the trail all to yourself, then we recommend that you try to go before 9 am, as during this time it is at its quietest.
Not only does a quiet trail mean free-er movement and more peace, but you might also be lucky to spot some bird sightings or other wildlife.
Peak times on the trail tend do not yield many sightings, but the early hours of the morning is a prime time to get a glimpse of finches, or perhaps even a six-point buck!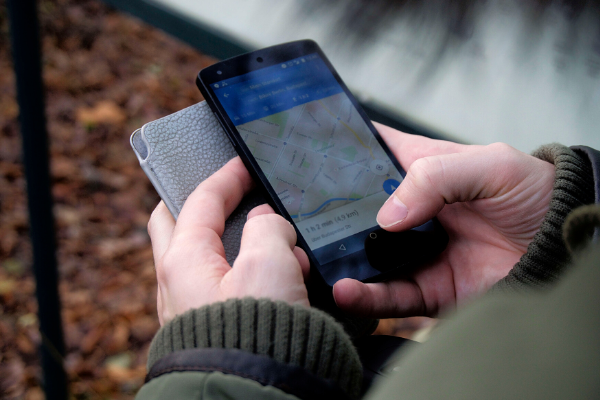 What to Take
As with any trail or route, it is best to come prepared. Don your jogging shoes, bring water—and do not forget the pooper-scooper if you are bringing your furry friend along for exercise.
If you are new to Bethesda, you will also want to have Google Maps at the ready so that you can orientate yourself as you follow the route of this urban trail.
What to Expect
As these Bethesda trails are very popular, you can expect to meet quite a few people on the Trolley Trail, especially if you go during peak time.
Many people move to Bethesda because of the awesome walking, jogging, and cyclists, opportunities around the area.
If you are a cyclist, you might want to consider mounting a bicycle bell for routes like this, as it is handy to be able to warn pedestrians and dog owners of your approach.
Get Out and Start Exploring the Bethesda Trolley Trail!
There you have it—everything you need to know about exploring the Bethesda Trolley Trail.
Now all that is left to do is plan a time slot to get out there and get on the trail. Perhaps one of us will see you there!
If you are new to Bethesda, we welcome you to our town. If you are planning to move to Bethesda, we commend your decision and invite you to take a look at our curated range of rental properties.